Selon une étude récemment publiée par l'Organisation mondiale de la propriété intellectuelle (OMPI), Paris est le premier cluster européen.
Les clusters sont des catalyseurs d'innovations scientifiques et technologiques qui reposent sur le principe de la « fertilisation croisée ». Ils ont pour vocation de « permettre la valorisation économique et commerciale des efforts de recherche publique et privée engagés sur un territoire grâce à l'action conjointe d'une multiplicité d'acteurs » (organismes de recherche publique, universités, investisseurs, grands groupes industriels donneurs d'ordres, PME, start-up, etc).
Vous trouverez, ci-dessous, un article du Financial Times relatif à l'étude réalisée par l'OMPI.

JAPAN'S INVENTORS LEAD WORLD IN NUMBER OF PATENT FILINGS

East Asia and US clusters score highly but Europe and UK struggle, study shows
Japan remains an innovation powerhouse, according to a geographical analysis of patenting that shows Tokyo-Yokohama is much the largest such cluster in world
The study comes from the World Intellectual Property Organisation (Wipo), based in Geneva, which analysed the addresses of inventors named in all 950,000 international patent applications published between 2011 and 2015 under the Patent Cooperation Treaty.
Two other Japanese clusters, Osaka-Kobe-Kyoto and Nagoya, are in the global top ten.
The results also show strong inventive activity elsewhere in east Asia, with China's Shenzhen-Hong Kong taking second place in Wipo's rankings, ahead of California's Silicon Valley in third and Seoul in South Korea..
European clusters appear lower down the rankings, with Paris at number 10 and Frankfurt-Mannheim at 12. The UK does poorly, with London at 21, Cambridge at 55 and Oxford at 88.
"This is a pioneering attempt to identify the world's innovation hotspots on a globally consistent basis through patent filings," said Francis Gurry, Wipo director-general. "It goes beyond our Global Innovation Index which has traditionally focused on the innovation performance of countries rather than localities."
Carsten Fink, Wipo chief economist and an author of the study, said: "I did not expect Tokyo-Yokohama to come out on top by such a large margin."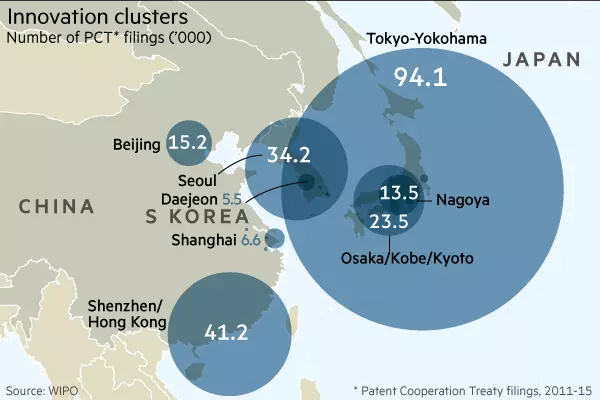 Inventors in the Tokyo cluster had 94,079 patent filings, well ahead of Shenzhen-Hong Kong with 41,218 and San Jose-San Francisco (Silicon Valley) with 34,324. "I would not have predicted that Shenzhen-Hong Kong would be so high up at this stage in its development," said Mr Gurry.
As expected, the country with the most clusters in the top 100 is the US (32), followed by Germany (12), Japan (8), China (7), France (5) and South Korea and Canada (4 each).
Corporate rather than university activity dominates most clusters. The largest patent applicant in Tokyo is Mitsubishi Electric, in Shenzhen it is ZTE and in Silicon Valley Google. But occasionally a university takes top place, such as Massachusetts Institute of Technology in Boston and the University of California in Los Angeles.
Large clusters, such as Tokyo and Silicon Valley, are usually technologically diverse, though a few concentrate on particular fields; for example 41 per cent of patents coming out of Shenzhen are in digital communications.
Taking the top 100 as a whole, medical technology is the leading field — top in 17 clusters — followed by pharmaceuticals (15) and computer technology (12). Clusters with high levels of pharmaceutical and medical technology patenting tend to include more activity by universities and public research organisations than those concentrating on computing, electronics and digital communications.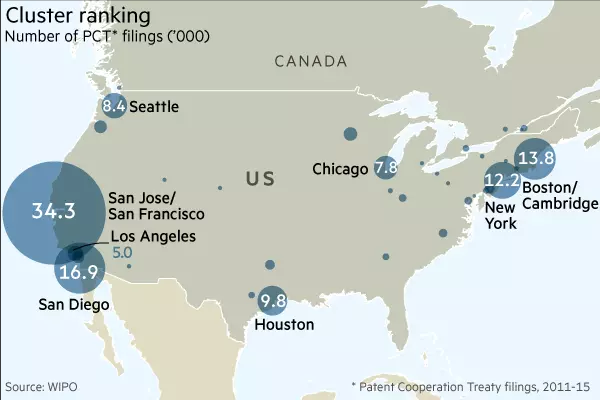 On the whole inventors in North America and Europe collaborate more with people in other clusters than their relatively insular Asian counterparts. Silicon Valley emerges as much the most collaborative cluster; it is the top partner for 24 others including six in Europe.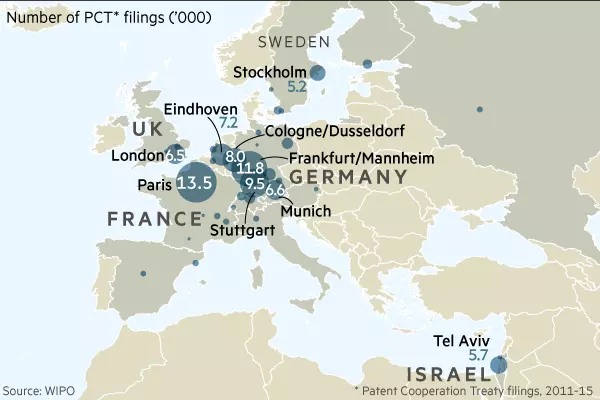 The Wipo researchers plan to improve and extend their analysis in the future, for example by refining the identification of clusters and their boundaries. "There is an argument for putting Oxford, Cambridge and London together to create one cluster," said Mr Gurry. However even a combined "golden triangle" cluster in south-east England would come no higher than 14 in the rankings, between Houston and Stuttgart.
Another idea is to show the density of innovation by adjusting for clusters' size and population. On this measure Silicon Valley might overtake Tokyo and Shenzhen where many more people live.
"Finally," the authors say, "we will try to include other measures of innovative activity in the analysis, such as scientific publications and the performance of universities and firms, to obtain a more complete picture of innovation taking place across the world's largest clusters."
Clive Cookson, Science Editor
Financial Times (29/05/17)